Homeschooling is tough, but especially if the area is boring. These top homeschool room ideas (on a budget) will leave you inspired and your kids ready to learn!
LEARN
Homeschool Room Setup Ideas
Homeschooling is a great way to teach your children, but it's not always easy to make this experience fun and engaging. The right environment will help foster creativity and imagination in your child.
One of the best ways to do this is by creating a space that will inspire those inquiring little minds. This can be done with some creative home decor ideas for homeschool rooms!
The decision to homeschool is not a good fit for every family, but if you do choose this approach, you might want to consider making a space that is both functional and engaging.
What Should I Put In My Homeschool Room?
If you are new to homeschooling or at home learning in general, it may be difficult trying to figure out what all you need to put in your homeschool room.
The truth of it is there is no right or wrong way to do this.
You should figure out what works best for your child or children and the learning style that you are trying to create.
A family that is setting up to do long term homeschooling may have a completely different approach to one who may just be doing distance learning or at home learning for a short period of time for one reason or another.
Regardless, we've put together a few items that can really help enhance creativity and productivity in any situation.
How Do I Set Up a Homeschool Room?
Before you even set up a homeschool room, your first step is to figure out where your room will be.
Do you have a separate room like a basement in your house that will allow a "school" feel? Or is your space going to be part of another room in the house like a kitchen or a living room?
Your homeschool room could also even be set up in an existing office that you may have in your home.
Once you've determined where your homeschool room will be, then you can implement some of these fun homeschool room ideas to get it set up.
In setting up your homeschool room, one of the most important things is functionality.
Functionality can give space for everything else that needs to be a part of a homeschool room setup.
What Every Homeschool Needs
When you are building out a homeschool room, it may be tempting to go out and buy a bunch of things, but the truth is that's not necessary. Here are the basics that you need for your homeschool room at home
Workspace that includes somewhere to sit and somewhere to write
You can get creative with this if you're short on space. You could utilize your kitchen table, your kitchen island or have desks if you have the room.
Being able to give each kiddo the space they need for their own curriculum is ideal so that they're not distracting one another, but there are also ways around this.
Use name tags or place mats to designate personal space in the home so that everyone knows where they should be when it's time for their studies.
Bookshelves
If you're unaware, homeschool curriculum can come with loads and loads of books. Not to mention the ones they'll be reading if you have elementary age kids or older.
Bookshelves will help you have a place for all the books without it looking like an explosion went off at your house.
Books can easily feel like they're multiplying and end up all over the place so bookshelves are a nice way to signify the end of the school day.
When books are put away, school is not in session.
Good lighting
This can come from either a well lit room with lots of natural light or just a room with good overhead lighting and lots of lamps.
In an actual school building or at home, kids are inevitably going to fall asleep. But having good lighting will help encourage them to keep going and stay awake!
Somewhere to organize things
Homeschooling comes with a LOT of accessories.
Whether it's craft supplies, regular school supplies, or even what you need as a teacher, somewhere to keep things neat and organized will be a blessing.
If you've got kids that are old enough, have them put their own supplies away when school is over! It'll give them some responsibility and it'll help your homeschool room look less cluttered throughout the day.
If you're working with a smaller space, your organization could simply be a couple of rolling carts that have your school supplies on them.
Having your supplies on rolling carts can make it super easy to put things out of sight and out of mind so that when your day is done, you can put it all away.
Homeschool Room Ideas for Small Spaces
You may be wondering how you can make this work if you don't have a designated space.
I do recommend having a separate space for homeschooling just for a mental separation, but by no means do you have to actually have a separate room entirely.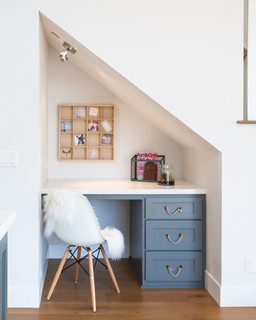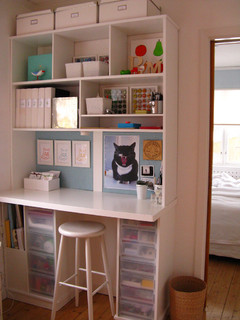 These examples are an incredible use of space and go to show that you don't have to have a giant space to give your kids exactly what they need to set them up for success in learning.
At the end of the day, the best homeschool room ideas are the ones that work for you and your family.
You don't need a ton of space to create a functional learning environment.
Hopefully after seeing some of these ideas you'll at least be able to get some inspiration on your own homeschool room!
Other Posts You Might Like: