From light and airy to deep and soulful, these blue and grey bedroom ideas will be spaces your teen or preteen will thank you for in years to come
TEEN ROOMS
Blue and Grey Bedroom Ideas
Our beautiful teens have minds of their own, don't they?
We love them for their budding minds and growing opinions, but when it comes to things at home in their safe zones, we want to let them have a say. Your teen is growing up, and you want to give them their own space. You know that they will be spending a lot of time here, so this room needs to reflect your teen's personality.
But decorating a teenager's bedroom can be tricky; teens like cool but also comfortable and cozy things. They also don't want their parents to make the design decisions for them!
Having a blue and grey bedroom will work well together because they create an appealing contrast while still working harmoniously. This color scheme gives off a calm vibe while still visually engaging, perfect for bedrooms where teenagers will spend most of their day hanging out at home or doing homework!
Here are some ideas on how to use both of these shades in your teen boy or girl's bedroom decorating project.
Do Grey and Blue Go Together?
They absolutely go together! In fact, they were the colors at our wedding years and years ago, and they felt in style then and still feel in style today!
When pairing these colors together in a bedroom, you have a lot of options for different shades. You can use lighter variations or darker ones depending on what you're going for in your bedroom decorating project.
That means if you pair a lighter blue with grey, you can create a totally different look and feel than if you pair a navy blue with grey.
Sometimes when you think of painting a room in grey, you may get the feeling that it will create a cold, perhaps even sterile feeling.
But with how paint colors have advanced through the years, I can't tell you how many warmer grey paint colors are available to you! Those grey paint colors with pinkish undertones end up looking warm in a bedroom. Grey is super versatile and can either be the star of the show or simply blend into the background.
What Is The Best Way to Design A Bedroom?
When you're trying to design a bedroom, there are a few principles that I like to follow.
However, when you're decorating a bedroom for your tween or teen, it's super important to make sure they have the option to give their input if they want to. Your teen may want you to do all the legwork, but let them be involved if they want to be!
It's a great way to work on decision-making skills.
Here are the top tips for designing a bedroom for your kiddo or even yourself:
Choose the right shade paint colors
This step is crucial. Since you will paint the room in your chosen shade, you want to make sure that the color works well in the space.
Consider the lighting your teen's room gets. If there are a lot of north-facing windows, that means there won't be as much light, and therefore even lighter colors can look dark and dreary if you're not careful.
Consider both lighter and darker blues depending on what you're looking for as the overall feel of the space.
You don't have to have this bedroom match the rest of your home's style if it doesn't need to. Just because the rest of your house has a rustic feel doesn't mean your teen's room has to be rustic if they don't want that feel in their bedroom.
Determine your primary colors and accent colors
Using blue and grey bedroom colors can look a lot of different ways. Depending on which way you decide to go, you can create a lot of space to showcase the primary color.
Sometimes this can mean the grey is on the walls with navy accents like bedding and drapes.
Other times, the navy ends up on the walls, and the grey is used as the accent color in the room.
You also have the option to also throw another pop of color like yellow into the mix as a fun accent.
Before you decide, think about what your teen wants and then incorporate that into their space. This way it's a bedroom they like and not one you like for them!
Start with your bedroom staples
Next, you want to think about the functional pieces in your room. The bed is often one of these staples since it's the biggest thing in the space.
Have you ever noticed how some bedrooms have really interesting headboards or wall art related to their themes? It's a great idea and another place to add your navy and grey color scheme.
If you're trying to get more unique bedroom ideas for your teen, consider adding other elements like side tables, dressers, and nightstands.
There are places to add your teen's personality, but you want to make sure that your furniture staples can stand the test of time and are durable. Consider adding other furniture pieces other than the bed like side tables, dressers, or even desks if you have the room for it.
Anchor Your Room
Once you get the functional pieces out of the way, it's time to tie everything together with a rug.
Depending on your decorating style and how you want to approach this, some people choose their rug first and then build the rest of the room around that.
Other people choose to choose their rug after they know how they want the room to feel.
Ultimately, it's your choice. If you're looking for that cozy bedroom vibe, then adding a soft, high pile rug might be helpful in that experience. Floor rugs are incredible because you can change the entire feel of a room simply by changing out your rug.
Add Creative Artwork
Art is really where your teen can get involved in the decorating process. If you have a wall that needs some color, consider adding something your teen created or even letting them make it for their bedroom!
If you're not up for painting on the walls, there are other ways to add art to the room without making permanent changes. Add gallery-style wall decor by framing pieces of art that your teen has created or even use photos of them and their friends as their art.
You can also consider adding a mirror for teens who might be going through a self-image change as they grow up with these grey and navy bedroom ideas. Mirrors are not only functional, but they give the illusion of more space in a room!
Navy Blue and Grey Bedroom Ideas
I love navy because it brings so much depth to a space and a level of cozy like no other color.
Blue is considered a calming color, so I love that almost any shade of blue can create a perfect environment for teens and their raging hormones.
Mixing the grey in with your navy bedroom can also bring another level of cool and calm. Grey used to feel stale and cold, but with the thousands of grey paint colors available from places like Sherwin Williams, Benjamin Moore, Behr, and others, you're bound to find a shade of grey that you love.
And if you're still on the fence about a color and don't want to paint a ton of samples on the wall, you should try Samplize! A genius concept where you can basically buy a peel and stick sample for a couple of bucks and then stick it up on your wall to see it in all the lighting options in your home!
Here are some gorgeous navy blue and gray bedroom ideas from around the internet for your teen:
Baby/Light Blue and Grey Bedroom Ideas
If you love color but aren't looking for such a bold statement as navy or a darker blue, try a color like a sky blue, a lovely "spa" blue like Sherwin Williams Sea Salt, or even Tiffany Blue!
A bold shade like navy or even a royal blue will always make a statement if you're not ready to commit fully. Light blue can be incredibly peaceful and serene.
You also can choose to paint a neutral wall color and have your accents in your room be either your light blue or your baby blue. Here are some stunning baby blue bedroom ideas that also include some other light blue color options: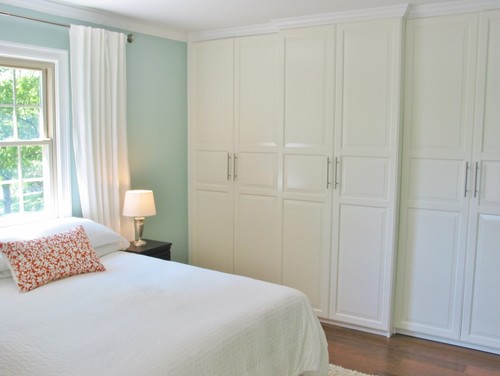 Suppose you're looking for a way to create an aesthetically pleasing bedroom that is cozy and inviting for your teen. In that case, we recommend exploring blue and grey color palettes as the perfect solution.
With navy as your primary color and accents of light grey, this can be applied in many different ways depending on your personal style preferences or those of the person using the room. You don't have to restrict this look to teen bedrooms either – why not try it out in other spaces like a sweet minimalist nursery?
Overall, these colors provide a space with excellent contrast and visual interest while still feeling calm and relaxing at first glance, and we all know that our teens need a space to relax after long days of studying.
These blue and grey bedroom ideas are what you need if you've struggled to create a cohesive design aesthetic that ties everything in well together!